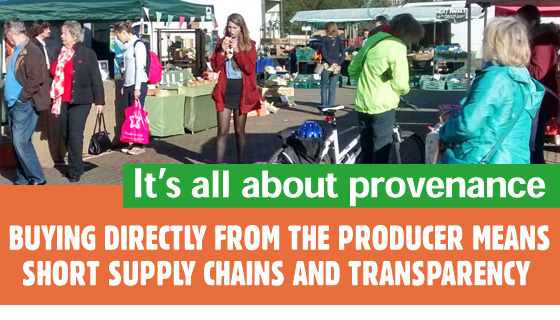 There are many good reasons for shopping at a Farmers' Market...



Local food & drink: Grown or produced in and around your community





Value for money: Buy direct from the grower/producer and enjoy competitively-priced, quality products





Easily traceable produce: Chat to the stallholders, find out where your food comes from





Fresher and tastier food and drink: Seasonal produce is freshly picked, caught or made





Healthy food and drink: Food made for eating, with wholesome natural ingredients.





Community spirit: A great focal point and lots of fun for all the family





A new food experience: With tastings, as well as unusual and original food






Create a sustainable local economy: Help build up local food production. Reduce reliance on imported foods


The variety of produce available from stallholders is amazing. Click here to see what you can buy at Farmers markets in Kent.


To find out what you can buy at each market click here and select the town/village you wish to visit.
KFMA is pleased to be working in partnership with Produced in Kent sharing opportunities for and on behalf of food producers in the county of Kent which is blessed with an array wonderful produce.