Tue 31st May
9.00am -
11.00am
Market Days
Every Tuesday
Contacts
Janet Richardson
Market Manager
t:01732 838903
email

Julie Kury
Market Secretary
t:01732 833919
email



Location
St. John's Church Centre
Tonbridge Road
Hildenborough
Nr Tonbridge
TN11 9HT
Find us
Click to see detailed map

Hildenborough is situated on the B 245 between Tonbridge and Sevenoaks.St Johns' Church Centre is located on the Sevenaoks to Tonbridge road next door to St John's Church. Turn into Foxbush Lane and then turn into the car park which is behind the Centre.
Parking
Parking in the Centre car park and surrounds. Our friendly car park attendant will guide you in and out and of course there is NO CHARGE.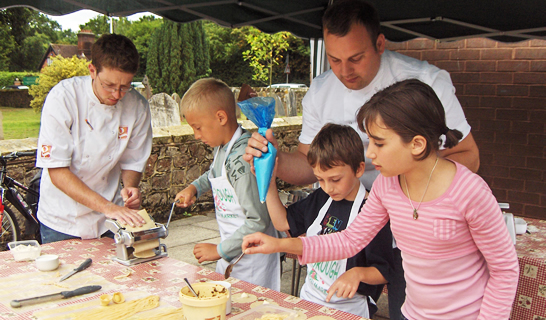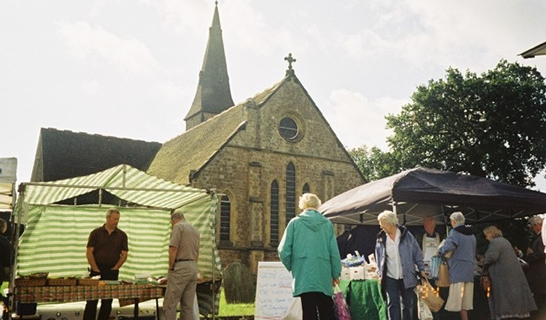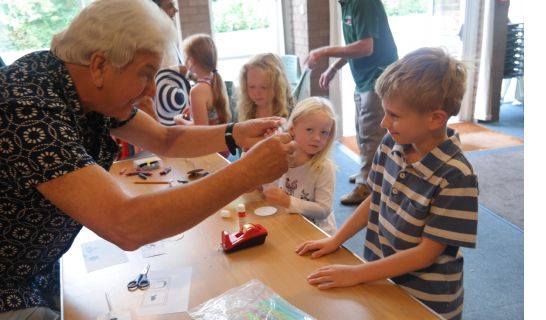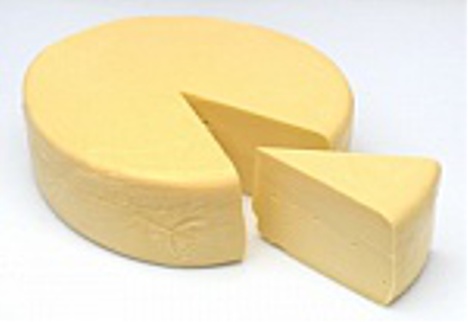 Our Market
Hildenborough Farmers' Market was started in 2008 and has grown steadily with an average of 20 stalls each week. We are able to offer a wide range of fresh local produce of high quality at competitive prices. Additional seasonal items, e.g. asparagus, soft fruit and flowers, are also available. Our friendly team of volunteers is available at all times to lend a hand

To complete your shopping experience visit our tea and coffee lounge for refreshment in a relaxed and friendly atmosphere.


Local News & Links
Whatís happening at the Market.
Mikey will have a van full of wonderful fish just ready for the barbeque and he really does have a huge selection for such a small
stall.He will help you choose and always be happy to advise you on price, cut, and recipe before you buy. Just ask.
Similarly with Corinne, our butcher. She will have a stall full of great meat and is always happy to advise you on what she has and how to cook it. Alternatively, you can visit her and Sam at their shop at Market Gardens in Riding Lane for the full range of meat and poultry.

To complete your meal, you buy your eggs from our Princess Christian Farm stall, whip up the whites with sugar to make a meringue add a little cream and some strawberries, you have wonderful Pavlova. So worth the effort of making your own and making your friends really envious of your prowess!†

From our Market Manager Ė Janet Richardson

In June 2008, our local resident, Dame Kelly Holmes, opened the Market and we launched with such enthusiasm. Lots of things have happened and lots of people and stalls have come and gone, but the Market Team of helpers and our loyal core of stalls do still share that enthusiasm for local produce and the community.
Without doubt there are many people in Hildenborough who come regularly to the Market to shop.† There are also our regular supporters who enjoy a cup of coffee and meeting with friends.† We continually seek to keep the Market vibrant, viable and interesting, but to do this we do need the support of more regular shoppers.

Although we use the Church Hall and enjoy the support of St. Johnsí Church, we are not financed or subsidised by the Church.† Our costs and outgoings continue to rise;† rent, insurance, advertising and general expenditure all have to be met. We already have the reputation of being the one of the friendliest Farmersí Market in Kent, so why not come along and buy some of our fantastic local produce.† Our prices and quality offer excellent value for money on your doorstep.† The Farmersí Market is a real community asset but itís only with your support we can keep it that way.